Our First Show
The entire show will last for approximately 45 minutes
-Location: Atlanta, Georgia: The Olympic Stadium
- Time: Shortly after Dusk. Doors open at 7:00,
and the show will begin shortly after 7:45
-Parking: We invite you to park your car, for FREE in
the parking lot that is located near the
near the stadium entrance
-Food: No show is complete with out a snack or two.
This show will have a picnic food theme.
Which will include: Hot dogs, cotton candy,
Caramel apples, watermelon, popcorn, and
many others. We will have venders all
throughout the park.
-Entrance fee: We feel that we are not doing our job if
our audience is not satisfied. Therefore,
we will not charge you when you come in,
but at the end of the show you may leave a
donation on your way out.
The Show
the first 10 minutes (our warm up):
You know our show will be started when you see the Olympic flame lit. Next, you will hear, Shania Twain's, "Party for two," Rascal Flatt's "Mayberry," and Gretchen Willson's "Here for the party." There will also be a variety of fireworks as well. There will be over 75 willows, rounds, palms, and rings. The willows will be white, purple, and yellow. The palms will be brilliant red and white, and the rings will be turquoise, Blue, and Pink.
During the next 10 minutes there will be a laser show.
The laser show will use white light lasers and screen effects. The show will use a variety of colors and effects. There will be 3-d images of infamous country symbols, like cowboy boots, guitars, and even Cowboy hats. There will be Words to also help describe our laser show. Through out the show, we will display the words, "Ye-Haw." when ever you see that appear in our show, you are all encouraged to shout, scream, do what ever you can to show some enthusiasm towards the show. The music that will accompany the laser show will be Big and Rich's "Save a horse ride a cowboy," and Montomery Gentry "You do your thing."
The middle of our show (10 minutes):
Now, it is time to let your legs to some of the work. This is the part of the show where you are encouraged to get up on your feet. We will provide the music, and the dance moves, will be displayed through our lasers. All you have to do is groove to the music, by following our moves. We will take you through a variety of dances, there will be a piece donated to the young, the adolescence, and for all of you couples out there, there will be a chance to get close to your partner.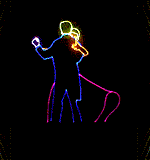 Laser animation of a couple dancing
http://www.laserfx.com/Works/Works5.html
A cool down (10 minutes):
Sit back and relax. Our pyrotechnics, will provide you with yet another spectacular firework display. This part of the show, you will be exposed to over 150, Roundels, pistons, serpentines, chrysanthemums, palms, willows, and also some more rings. The colors of these fireworks will help you relax and get ready for the finale of our show. The music that will be playing during this section are, Lynrd Skynrd's "Sweet Home Alabama," Garth Brooks "Thunder Rolls," Tim McGraw "Live like you Were Dying," and Garth Brook's "I have friends in low places."
The Finale (5 minutes):
Get ready to get back up on your feet. Here is when we will let the patriotic part of our show come out. Not only will you hear Toby Keith's "Proud to be an American," but you will be given a display of over 175 fireworks. The colors will all be in Red White and Blue. The lyrics to the song, will be displayed for all of you through our lasers. Behind the lyrics will be a waving American Flag, and many other symbols that represent America. The Lasers will also all be in Red white and blue, giving the full patriotic effect.
Thanks so much for celebrating with KAL!
Our show will conclude by telling you where you are able to leave a donation, but most importantly, KAL will thank its audience for watching the show. KAL is here for its audience, which is why we will remind you to be smart, and not drink and drive.
**This page is not that of a real company, but is for a chemistry assignment for general chemistry 140 at Monmouth College.**