An Illustrated Archaeology
Lecture for the Western Illinois Society of the Archaeological
Institute of America
and the Illinois Classical Conference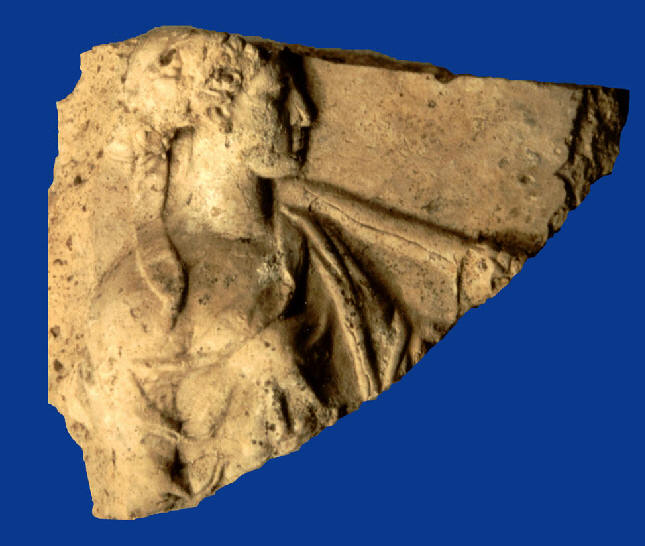 This fragment of a Bacchante Sacrificing was found at the Palatine East Excavation in Rome
Terracotta Tiles from the Palatine East, Rome:
A Revival Style and its Political Ideology
Víctor M. Martínez
Ph.D. Candidate at the University of Illinois
Friday, October 18, 2002 at 7:30 P.M.
Highlander Room, Stockdale Center
Monmouth College, Monmouth, Illinois 61462
Although Augustus is said to have found Rome a city of bricks and made it a city of marble, terracotta sculpture enjoyed a revival under his reign. Low relief architectural tiles commonly known as Campana plaques were used to decorate and protect the upper architectural members of sacred and profane buildings. However, certain themes and images were employed by Augustus on these tiles to project his imperial policies. Moreover, by using terracotta tiles, which by then was an anachronism, Augustus lent weight and authority to his architectural projects on the Palatine Hill. This paper first presents an overview of the iconography of the Campana tiles and their function as well as presents several examples from the Palatine East Excavations, some of which remain unpublished. Then, a possible scenario for the original disposition of some of the Palatine East tiles will be offered.
Víctor M. Martínez is a native of Rockford, Illinois, where he attended Rockford East High School and studied Latin with Kim Benson. He completed his undergraduate work at the University of Illinois at Urbana-Champaign, earning a B.A. in Classics. Then, after completing an M.A. in Classical Art and Archaeology at the University of Missouri-Columbia and after studying at the University of Rome "La Sapienza" for six months, he returned to the University of Illinois to pursue a Ph.D. in art history, where he is currently a doctoral candidate.
His research has been focused on the archaeology of Rome. Currently, he is working on the publication of the sculpture and a large portion of the pottery assemblage from the Palatine East Excavations in Rome. Although primarily focused on Mediterranean art and archaeology, his interests extend to the archaeology of Mexico.
Click here for a photo of Mr. Martinez at Monmouth College.
This material was posted on the web by Professor Thomas J. Sienkewicz of Monmouth College.
If you have any questions, you can contact him at toms@monm.edu.