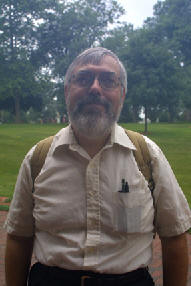 James E. Betts
Associate Professor of Music
Monmouth College
Monmouth, Illinois
James E. Betts received the Doctor of Musical Arts degree from the University of Iowa and is currently on the faculty of Monmouth College. His interests are wide-ranging, and he has taught analog and digital recording techniques, Latin American history, and video production for instructional multimedia at several colleges and universities in addition to his music courses at Monmouth. His interest in classical studies and classicists developed after attending the 1989 Fox Lecture presented by Nelson Potter, and has led (among other things) to presentations to the Classical Association of the Middle West and South and the Illinois Classical Conference.
This material was placed on the web by Prof. Tom Sienkewicz of Monmouth College, If you have any questions, you can contact him at toms@monm.edu.