Monmouth Students Recognized on National Language Exams
<![if !vml]>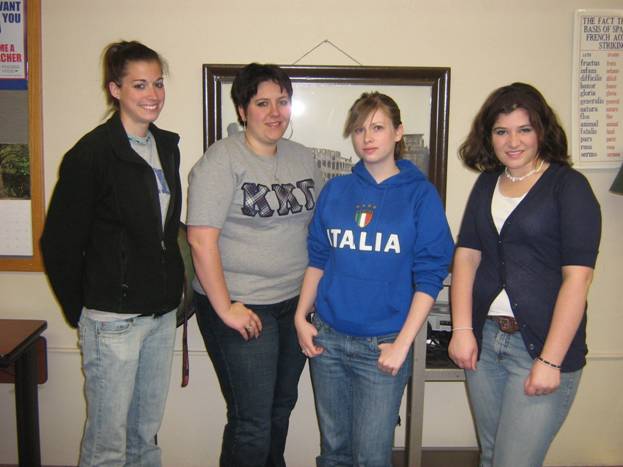 <![endif]>
Pictured from left to right are Alison Andrews '10, Jacqueline Deskovich '11, Anne Cave '11, and Katherine Bradshaw '11.
Four Monmouth College students were recently recognized for their performance on national exams for Latin and ancient Greek.
Alison Andrews '10 received a certificate of achievement for her performance on the second annual College Greek Exam which was taken by 311 students at 35 colleges and universities. This exam is sponsored by the National Committee for the Promotion of Latin and Greek, the American Classical League, and Eta Sigma Phi (the national classics honorary society). Alison's Greek instructor was Dr. Vicki Wine.
The following students earned recognition on the National Latin Exam: Jacqueline Deskovich '11 (Latin II, silver medal, maxima cum laude), Katherine Bradshaw (Latin II, cum laude) and Anne Cave '11 (Latin IV Poetry, silver medal maxima cum laude).
In 2009, more than 150,000 students applied to take the thirty-second National Latin Exam. Participation in the Exam has increased each year since its inception in 1977, when approximately 6,000 students enrolled. Students from all fifty states participated this year, as did students from 11 foreign countries, including Australia, Bulgaria, Canada, China, Italy, Mozambique, New Zealand, Poland, and the United Kingdom. For the first time, students from Israel and Lithuania also took the NLE. In addition, students in two U.S. territories, Guam and the U.S. Virgin Islands, participated this year.

During the second week in March, more than 137,000 students took the National Latin Exam in their own schools, and it was administered in seventeen colleges and twelve elementary schools. Also participating were 1694 students from 358 home schools. Approximately 1,863 more students took the exam than in 2008.