MC Student, Professor Present Paper in Texas
Release Date: April 2, 2002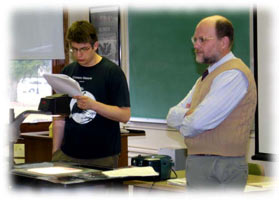 Monmouth College Classics professor Tom Sienkewicz and Marty Pickens, a junior from Elgin, will present a paper at the annual meeting of the Classical Association of the Middle West and South (CAMWS) in Austin, Texas, on April 5, 2002.
Titled "The Darker Side: The Use of Classical Mythology in Rock Music of the Late Twentieth Century," the presentation will use music clips and lyrics to examine how classical mythology was often adapted to the rock music scene in America and Britain during the late 20th century.
Initially, rock music delved into mythology only as it related to love. An example is the song "Stupid Cupid," made popular by Connie Francis in 1958. Other songs of the era mentioned Venus. However, the turmoil of the 1960s and the Vietnam era led artists to introduce a variety of other darker mythological themes.
One of the earliest examples is Cream's "Tales of Brave Ulysses" (1967). One of the premier groups of the era, Led Zeppelin, sang about "Achilles' Last Stand" on its "Presence" album. Classical references continued throughout the remainder of the decade, all the way up to Elton John's "The Muse" in 1999.
Released by the Office of College Communications
Jeff Rankin, Director of College Communications
Phone: 309-457-2314 Fax: 309-457-2330