Local
MC professor, graduate collaborate on reader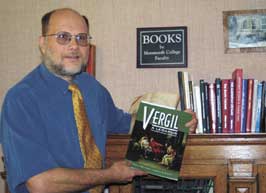 PHOTO SUBMITTED Tom Sienkewicz, Capron professor of Classics at Monmouth College, is shown with "Vergil: A LEGAMUS Transitional Reader,", the book he and LeaAnn Osburn, produced.
A Monmouth College professor and an alumna of the college have joined forces to complete a text for Latin students entitled "Vergil: A LEGAMUS Transitional Reader."

Tom Sienkewicz, the Capron Professor of Classics at Monmouth, and LeaAnn Osburn, a 1972 graduate, were assigned to produce a work in the LEGAMUS series that allows students to make a transition from elementary or intermediate Latin into reading the authentic Latin of Vergil.

"(The series') purpose," wrote the University of Massachusetts' Kenneth F. Kitchell Jr. in the book's foreword, "is expressly and solely to address those very things which make the transition to reading a given author difficult ... It is the hope of the authors and editors that this series will bring more students into direct contact with the beauty and inspiration reading these authors can provide."

Published by Bolchazy-Carducci Publishers, Inc., the 136-page paperback contains about 200 lines of selections from Vergil's Aeneid.

Passages are accompanied by pre-reading materials, grammatical exercises, complete vocabulary, notes designed for reading comprehension and other reading aides.

Osburn studied under the late Bernice Fox at Monmouth and has taught Latin at Barrington (Ill.) High School for many years. Since Sienkiewicz arrived at Monmouth in 1984, the duo has collaborated on a number of projects.
"It is our hope as authors that the text will enable future students of Latin to appreciate the poetry of Vergil," said Sienkewicz.

"Why read Vergil?" asked reviewer Alexander G. McKay, professor emeritus of classics at McMaster University. "Because, judging by these extracts, there are great expectations for the reader, whether novice or lightly tuned adventurer."