<![if !vml]>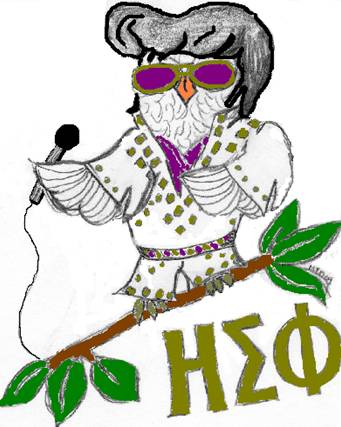 <![endif]>
Owlvis, the god-king of wisdom and rock-n-roll
The Eighty-First Annual
Convention
<![if !vml]>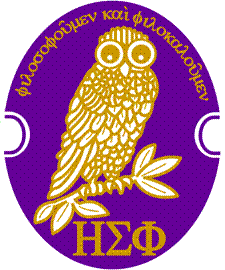 <![endif]>
March 27-29, 2009
Memphis, Tennessee
at the invitation of
Rhodes College
2008-2009 National Officers
Megale Prytanis: Jesca Scaevola
Alpha Mu at the University of Missouri at Columbia
Megale Hyparchos: MaryBeth Banovetz
Eta Delta at Hillsdale College
Megale Grammateus: Rori Smith
Zeta Beta at Temple University
Megas Chrysophylax: Bryan Behl
Epsilon Iota at the University of Florida
Executive Secretary
Thomas J. Sienkewicz
Gamma Omicron (Monmouth College)
2008-2009 Board of Trustees
Martha Davis (Chair) Zeta Beta
(Temple University)
Sr. Thérèse Marie Dougherty Beta Kappa
(College of Notre Dame of Maryland)
Joseph Garnjobst Eta Delta
(Hillsdale College)

Daniel Levine Beta Pi
(University of Arkansas)
David Sick Beta Psi
(Rhodes College)

Honorary Trustees
Brent M. Froberg Gamma Omega (Baylor University)
W. W. de Grummond Eta (Florida State University)
C. Wayne Tucker Beta Theta (Hampden-Sydney College)
Friday, March 27th
5:00-7:00pm 1st floor Lobby, DoubleTree Hotel
Registration
6:30-7:00pm Iris/Rose Room
Reception
7:00-9:00pm Iris/Rose Room
Opening Remarks and Certamen
**Attendees will be on their own for dinner. Please refer to the enclosed guide for ideas.**
Saturday, March 28th
8:00-8:15am
Buses Depart DoubleTree for Rhodes College
8:30-9:00 Barret Library 051, Rhodes College
Breakfast
9:00-11:00am Barret Library 051
First Business Meeting
Megale Prytanis Jesca Scaevola, presiding
1. Minutes of the 79th Annual Convention
Megale Grammateus Rori Smith
2. Welcoming Remarks, President William E. Troutt, Rhodes College
3. Reports:
Chapter Reports
Report of Contests
Report of Scholarships
Report of Megas Chrysophylax Bryan Behl
Report of Megale Hyparchos MaryBeth Banovetz
Old Business
New Business
Bids to host the 82nd Annual Convention
Nominations for 2009-2010 National Officers
** A 10 minute break will be announced during this session.**
11:00am-12:00pm Barret Library 051
Student Paper Presentation
· Left at the Altar: Eurydice's Suicide in the Antigone
MaryBeth Banovetz, Hillsdale College
· The Tomb of Trimalchio in the Context of Roman Freedmen
Jessica Wise, Kenyon College
· A Study on the Gladiatorial Games
Katy Chenowith, Baylor University
Honorable Mention
· Child Sacrifice in Ancient Carthage
Madeline Ware, Hamilton College
· "Sweeter for Me Will Always be the Word Friend": Marriage and Heloise as Philosopher
Megan Grundtisch, College of Wooster
12:00-12:45pm Lunch Hyde Hall, Rhodes College Refectory
Committee Meetings
New Chapters Alburty Room
Finances Hyde Hall
Contests and Scholarships Hyde Hall
Convention Site Hyde Hall
Program Hyde Hall
Resolutions Brooks Room
Officers Cambridge Room
1:00-2:00pm Frazier-Jelke A-B-C
Preparatory Lectures for Afternoon Trips
· MLK, Jr. and the Heroic Vision (Frazier-Jelke A), Prof. Joe Jansen, Department of Greek and Roman Studies, Rhodes College
· Classical Myth and Art in the Brooks Museum (Frazier-Jelke B) Prof. Glenda Swan, Department of Art, Rhodes College
· The Heroon of Elvis (Frazier-Jelke C), Prof. Kenny Morrell and Prof. Susan Satterfield, Department of Greek and Roman Studies, Rhodes College
2:15-5:30pm Walking in Memphis/We're Going to Graceland
Buses depart from the Mallory Gymnasium Lot and take participants to either the Brooks Museum of Art, Graceland, or the National Civil Rights Museum, as pre-registered. We regret that we cannot accommodate changes. Buses will not return to Rhodes.
5:30pm Return to DoubleTree Hotel
6:45pm Grand Ballroom, DoubleTree Hotel
Certamen: Vir aut Femina Vestita Splendidissime
7:00pm Grand Ballroom
Formal Banquet
7:45-8:15pm Grand Ballroom
Certamen Award
Paper Award
Service Award
Life Time Achievement Awards: Dr. Adam D. Blistein. Executive Director, American Philological Association; Ms. Alice Sanford, Hume-Fogg Academic School, Nashville, TN
8:15pm Grand Ballroom
Plenary Address
· David M. Robinson: Archaeologist and Collector
Aileen Ajootian, Department of Classics, University of Mississippi
9:00pm Grand Ballroom
After Dinner Presentations
· An Artistic Performance of Cicero's De Senectute
William Storm, University of Iowa
· Stairway to Homer: Adapting Rock Lyrics in Attic Greek
Nathan W. Self, College of William and Mary
Sunday, March 29th
8:00-9:00am Iris/Rose Room, DoubleTree Hotel
Continental Breakfast
9:00-11:00am Iris/Rose Room
Second Business Meeting
Megale Prytanis Jesca Scaevola, presiding
Chapter T-Shirt Contest

Committee Reports

Report of the Executive Secretary, Thomas J. Sienkewicz

Report of the Chair of the Board of Trustees

Election of 2009 Convention Site

Election of 2008-09 National Officers

Installation of Officers
Closing Remarks
Acknowledgements
Beta Psi would like to say thank you, thank you very much to the following groups and people for their support in organizing, and hosting the convention:
William E. Troutt, President, Rhodes College
Michael Drompp, Vice President for Academic Affairs, Rhodes College
Thomas J. Sienkewicz, Executive Secretary, Eta Sigma Phi
Kathy Foreman, Greek and Roman Studies, Rhodes College
Prof. Joseph Jansen, Greek and Roman Studies, Rhodes College
Prof. Kenny Morrell, Greek and Roman Studies, Rhodes College
Prof. Susan Satterfield, Greek and Roman Studies, Rhodes College
Prof. David Sick, Greek and Roman Studies, Rhodes College
Prof. Glenda Swan, Department of Art, Rhodes College
Prof. Aileen Ajootian, Department of Classics, University of Mississippi
Search Program, Rhodes College
Officers of Beta Psi: Mary Ellen Dumas, Allie Marbry, Kelly White, Stephanie Wilson, Mackenzie Zalin
Past and Current Members of Beta Psi
Contact Numbers
Allie Marbry, Chair of Local Committee, (901) 237-5553
Mackenzie Zalin, Local Committee, (831) 917-4174
David Sick, Greek and Roman Studies, (901) 301-5696