Monmouth College celebrates its 1999 National LatinExam award-winning Latin students!!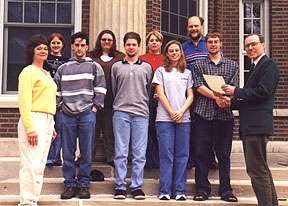 Back row, from left: Courtney Steenrod, Kimberly Albrecht, Keely Moore, Tom Sienkewicz (Dept. Chair)
Front row, from left: Virginia Hellenga (instructor), Thomas Siegel, Brandon Tweed, Regina Mangieri, Thomas Boynton, George Arnold (VP for Academic Affairs).
Missing from photo: Megan Barber
This material was placed on the web by Prof. Tom Sienkewicz of Monmouth College in Monmouth, Illinois. If you have any questions or comments, you can contact him at toms@monm.edu.
Monmouth College Department of Classics HomePage