Allan Walters, Mayor of Monmouth 1961-1965
by Thomas Moore, MC '08
Early Life of Allan Walters
Allan A. Walters was born on September 25th, 1926, in the Monmouth Hospital.[1] At this time his family lived in Mercer County, Illinois, where his father, Frank E. Walters, was the postmaster of Seaton, Illinois, about twenty miles northwest of Monmouth.[2] Also living in the family at that time was his mother, Florence D., and his brother Frank E., who was six years his senior.[3] Allan moved to Monmouth with his family at a very young age. He attended Monmouth schools through his sophomore year in high school, when he moved to Rock Island to finish up his schooling.[4] Allan was employed in various jobs throughout his childhood in Monmouth. He carried papers for the Monmouth Review Atlas for a number of years, beginning when he was about nine. While in high school, he washed dishes at a restaurant and worked at various supermarkets in the meat or produce departments.[5] After graduating from high school, Allan worked as a machine operator. This was during the first part of World War II, before he enlisted and served two years in the Air Force. On March 15th, 1945, Allan Walters enlisted in the Air Corps where he was stationed at Shephard Field in Texas for the duration of the war plus six months.[6]
After his time in the Air Corps, Allan Walters attended the University of Illinois division at Galesburg, where he majored in Engineering.[7] Walters worked for different engineering corporations, including the Eagle Signal Corporation in Moline as a design engineer for two and one half years, Soreng products in Schiller Park for one and one half years, and another corporation in Indiana for a year before he was working at the Admiral Corporation in Galesburg for three and one half years. At the Admiral Corporation he worked as a staff engineer assigned to the international division.[8] His total experience as an engineer was ten years before he became mayor.
Walters decides to become a politician
Allan Walters, a very intelligent individual who always had an interest in politics, created the Representative Party and ran for the mayor of Monmouth. It was reported that many people were angry about the ways the Union Party mayor Donald Vance was running politics in Monmouth, and they wanted a change. Walters, an Air Corps veteran, had been active in the American Legion and that was where he got much of his encouragement and support to run for mayor.[9] The Union Party, which had been in power for a long time, was very conservative and hesitant of progress because many of its members were afraid of the tax increases that new developments in the community would bring.[10] Even though there was criticism of Mayor Vance, he had been elected the two previous terms and was the favorite in the upcoming election.
On April 17th, 1961, the day before the election, Allan Walters posted an ad in the Monmouth Review Atlas which said: "For mayor, I have the ability and energy to manage your city government. You have the votes. Your vote will be appreciated."[11] He also included a number to call if any voters needed transportation to the polls. The Union Party also had ads in the Review Atlas and it was rather easy to notice that they had more ads and bigger ones as well. An example of a Union Party ad is the following: "Accomplishments mean more than promises; remember these achievements when you go to the polls Tuesday. The Union party stands for honesty, integrity, and experience in city government, eight years of progress."[12]
1961 Election
On April 18th, 1961, Allan Walters defeated Don Vance for the office of mayor, ending the thirty-two year reign by the Union Party. This election was much closer than anticipated; Walters won in an upset by only 21 votes. He was only two the last time a non-Union Party candidate served as the mayor of Monmouth; that was when C.C. Merillat of the Republican Party defeated Loren E. Murphy.[13] Allan Walters won by substantial margins in the 1st and 4th voting wards, losing to Vance in the 2nd ward, where Vance lived. The election came down to the critical 3rd ward which Walters won by just a few votes.[14] It had a very good voter turnout with 3,373 total votes cast out of 6,000 eligible voters. This 60% voter turnout almost doubled the 31% turnout when Don Vance defeated Walter Bonaguidi in the Union Party primary. Donald Enslow and Robert Cudd were also elected as aldermen for the Representative Party, defeating Union Party candidates, A.D. Prescott and Howard Waller, respectively. The outcome of the election was surprising and very successful for the newly created Representative Party.
Allan Walters was the 42nd mayor of Monmouth in 106 years as a city. At the time of this election, he was thirty-four years old and lived at 422 N. B Street. He was married to the former Miss Louise F. Ehrhart of Clinton, Iowa; they had two sons, Wayne aged seven, and Richard, aged four.[15] At this time, Wayne attended the Immaculate Conception Grade School and Richard was planning on attending Kindergarten in the fall. After the official vote declared Walters major, he resigned his engineering position at Admiral Corporation in Galesburg and focused his attention on the city of Monmouth.
Allan Walters as Mayor
Allan Walters was immediately confronted with problems at the first city council meeting. The Union Party dominated the city council, and fire, police, and other city employees were demanding pay raises from a city already short on revenue.[16] There was also immediate controversy when Walters submitted the name of David J. Shanks for Monmouth city attorney, replacing twelve year veteran Frederick H. Lauder. There was much criticism of this because, according to the council, the mayor was supposed to submit the candidate's name to the council first. Walters argued his case, then moved on, after which a speech was given welcoming him and the new aldermen to office. This would be the start of many disagreements Allan Walters had during his term as mayor. During this first council meeting, he clearly explained his goals as mayor as included "working together to get projects done."[17]
One of the first issues Mayor Walters encountered was a proposed dog ordinance. Mrs. Mildred Wilford, city clerk, received a letter from the Monmouth garden club signed by Miss Naomi Purlee, complaining about loose dogs and making the point that they should be chained or muzzled.[18] With the support of Mayor Walters the council proposed a dog ordinance that would be voted on at a later date. This ordinance would require a year-round leash law for dogs as well as mandatory rabies shots.[19]
Many angry dog lovers attended this next council session to express their disapproval of the proposed dog ordinance. Every seat in the meeting room was taken, and many people were standing.[20] Mayor Walters very fairly presented both sides of the issue as well as letting the audience join in on the discussion. Former alderman (and future mayor) George Berstead spoke out, stating that the city's proposal to license dogs which are already licensed by Warren County constitutes double taxation and that confining dogs will make them meaner. He also mentioned the high cost of enforcing these new dog ordinances.[21]
At a following city council meeting, it was determined that a dog ordinance was passed, but it wasn't as strict as originally proposed.[22] Mayor Walters had the right to require all dogs to be chained up during the height of the garden season and dog owners were now required to get mandatory rabies shots for their pets.[23] Also, all dogs were required to be tied up for thirty days following the meeting, which would give the city time to catch many of the strays. It was reported by Mayor Walters that during the past year the late Will Hanks had gathered up a total of 330 dogs.[24] Mayor Walters didn't feel that this dog ordinance was completely necessary but did respect what people in his community wanted.[25]
Shortly after Allan Walters was elected mayor he appointed many new faces to serve the city. They were as follows: City Attorney, David. J. Shanks, City Health Officer, Dr. Kenneth E. Ambrose, Member of Board of Health, Buster Kellogg, City Collector, Mrs. Madeline, B. Chapman, City Street Superintendent, Clyde Dellok, City Water superintendent, John E. Jessen, and City Disposal Plant Superintendent, Willard Merwin.[26] The city council approved most of these appointments; however, the member for the Board of Health, Buster Kellogg, was denied. The council also denied the person Mayor Walters appointed to take his own place on the hospital board, which was an issue because he could not occupy this spot if he was also mayor. The council was angry because Mayor Walters had not asked the hospital committee chairman, James Melvin, first and directly stated that Mayor Walters shouldn't make appointments without letting them know in advance. Mayor Walters responded, saying that the mayor alone has the right to make decisions on appointments and the council could only accept, reject, or delay them.[27] He was upset with many of the aldermen and said that they tried to make him look foolish. It was at this meeting that the council approved the mayor's proposal to put a water main along N. 1st Street as well as use some of the city's share of the tax-gas money for street maintenance. Mayor Walters pushed this street maintenance program, but it was a big issue during his term as mayor.
Another problem was with the hospital board. After Miss Louise Levine's term ended on July 1st and James Melvin resigned later in the month, the city council simply decided not to appoint any new members, cutting the membership from five to three.[28] The remaining board members, Ray Green, Tom Patton, and H.A. Martin, were all very upset, saying that there was way too much work to be done for only three members, but agreed to work for a couple months until new members were approved.[29] City attorney, David Shanks, however, said that he could find no resolution that would allow the city to keep five board members. Mayor Walters presented many possible candidates for this position, but the city council rejected every name.[30] The hospital board appointed Alderman Melvin for the position, but Mayor Walters opposed this because he couldn't serve as both an alderman and a member of the hospital board. Weeks later, the city council increased its number of board members to five, finally coming to agreement with Mayor Walters. Mayor Walters appointed Miss Ethel Richardson to a four- year term and Kenneth Critser, a Monmouth attorney, to a five- year term, both of whom were unanimously approved by the council.[31]
Goals as Mayor
Two of Allan Walters's major goals were to improve the condition of the city streets, which would require a blacktopping program, and to improve the sewer system, which was lacking in many places. These two projects went together because many streets had faulty sewer systems under them which would have to be repaired within a few years. It would not have been a good idea to pave these streets if they had to be dug up in a few years for repairs. Mayor Walters wanted to keep the business district as the major shopping area in Monmouth and help the merchants, as well as bring in industry, which he didn't believe would happen without paved roads and a decent sewer system.[32] Without letting much time pass, Mayor Walters announced his plans to blacktop from South Second Street to East Eleventh Avenue. He said that this area also had a reliable sewer system, which meant that the newly laid blacktop wouldn't have to be torn up in a few years to put a new system in. Mayor Walters also wanted to experiment with new black top curbs and gutters which would create better drainage for streets in this area as well as widen South Second Street to thirty-four feet.[33]
The mayor presented a city-wide sewer project to the city council, asking them to approve a survey of the city's sewer system by Stanley, Farmer and Associates, a Rock Island Firm. Robert M. Stanley was present at the council meeting and said that it would take about three months to complete the survey and put together the loose ends of the existing sewer system.[34] It was determined that the survey alone would cost $20,000 and the entire sewer system would cost between $1 and $1.5 million to fix.[35] Mayor Walters stated that the city's sewer system should have been fixed between thirty and forty years ago and he wanted to take advantage of the opportunity. Walters plans to get a $20,000 loan from the federal government to pay for the survey.[36] There was some debate over this idea because of the trouble the city was having with the state over the prevailing wage issue.
Problem with State and "union wages" for workers
Mayor Walters and the city of Monmouth received some disappointing news when they suddenly found out that their entire blacktopping program and perhaps other construction work was in dire jeopardy of being put to an end because of pressure by the Illinois Department of Labor and some labor unions. It was brought to the attention of the council that not only must the city pay union wages on its construction work but that firms that do the work for the city might have to do so, also.[37] This doubled the labor costs with no additional city revenue, and was thought likely to force the city to give up its blacktopping program and go back to street oiling.[38] Mayor Walter's explained that Senate Bill No. 250, passed by the state legislature, gave the State Labor Department and the Union the power to enforce these wages. If the city didn't abide by these laws, the state had the power to withhold the city's share of the gas tax.[39] The state also mentioned that violators of these laws could face jail time.
Mayor Walters was angry with this policy and strongly suggested that the city fight it. He said, "This is a piece of socialistic legislation and the state is moving toward control of all wages."[40] Mayor Walters also said that the city should take the case to the courts and make it a test that will someday benefit other communities in the state. Shortly after this meeting, the state did cut Monmouth's share of the city's motor fuel tax, which equaled about $15,000 monthly. This was done by the state financing department, acting on the direction of the state labor department.[41]
The state told their side of the prevailing wage issue at a meeting which Ray Edmundson, of the labor department and Lee Martin, an assistant attorney general, spoke to the city officials.[42] It was noted that this situation came about because of a petition by William Cavanaugh and the general council of nearly ten unions linked with construction trades.[43] The State says these blacktopping projects could force city workers to work between five and six months of the year rather than the usual twelve months, which would put many of them on unemployment roles.[44]
Mayor Walters again emphasized his disappointment with this whole situation and made the point that the workers were being paid well above minimum wages and that they would actually be getting paid excessive wages.[45] He indicated that the city would pursue this matter in the courts. Mayor Walters thought there was a good chance that the law could be found invalid and said Monmouth should get other cities and townships to "participate in the fight."[46] He also wanted city attorney, David Shanks, to work with "top flight" legal council such as William M. Bardens, a former circuit and appellate courts judge.
As Mayor Walters talked with officials from other communities, he realized that many of them were also upset with the new prevailing wage law. Officials from ten townships and twenty-three counties expressed interest in the Monmouth case, many of whom said they would try to help out with the case financially.[47] David Shanks talked with other attorneys, many of whom believed there were constitutionally good grounds for fighting the case.
Walters fights this case in courts
The estimated court costs of this case were $22,000 and Mayor Walters was ready to fight this as soon as the city obtained the money. The city retained the Graham and Graham law firm of Springfield, Illinois, to complete an opinion in regard to this law.[48] This was determined to be very important to the outcome of the case and the opinion would only be made available to Mayor Walters and the city aldermen. G. Durbin Ranney, former state's attorney, and former county court judge, Theodore Stansell, Monmouth attorney, William M. Bardens, former judge of the circuit and appellate court, and Hugh Graham Jr. of the Graham and Graham law firm attended a meeting with David Shanks about the situation.[49] They came to the agreement that these laws would result in the economic strangulation of local communities and this case had a good chance of success. The city council indicated that the case would be in the courts for a while and Monmouth would have to make plans for its street work without counting on any share of the state's tax gas money—which was close to $80,000 annually.[50]
After retaining the necessary funds, Allan Walters pursued this case in the circuit court where he, along with the help of top flight legal council, defeated the state. Shortly after this decision, the state fought back and defeated Allan Walters in the state appellate court. Allan Walters, a very determined man, eventually took this case over prevailing wages all the way to the Supreme Court, where he came out victorious.[51] Allan Walters spent two and one half years fighting this case through our court system, but he was glad he came out victorious and believed it to be a victory for many other people as well.
Mysterious Arson Case
Possibly the biggest and most talked about series of events in the community, during Allan Walters' term of mayor were the mysterious arson fires in 1963. The arsonist started fires in lumber yards and other various places around Monmouth after calling city officials homes and informing them that fires would be set.[52] City Officials and Police Chief Vincent Romano took these threats very seriously because the arsonist had acted out all of his previous threats. The arsonist called Mayor Walters' residence, informing the mayor's wife of his plans of arson. He also called police Chief Romano's residence and threatened his wife. He said, "If Vint (her husband Vincent) does not lay off, you are next."[53] In addition, a lighted flare was thrown into newspaper writer, Ralph Eckley's open bedroom window.[54] Despite these threats, Mayor Walters was convinced that the arsonist was not dangerous and in other than fire-setting capacities, and that it would be safer for everyone if only the properly trained law enforcement officers were armed.[55] The mayor also believed the arsonist was a native of Monmouth because of his first name basis and direct threats to wife of police chief Romano as well as Mrs. Walters. This puzzled Mayor Walters and he wondered if he had previously met the man
During a press conference, Mayor Walters informed the city about the practices of the arsonist as well as letting the press know that he would be the sole source of the news regarding this story. He announced that press conferences would be held at 12:00 noon and 6:00 in the evening daily, until the arsonist was apprehended. Police, firemen, and all other city employees were directed not to give any information to newsmen. Mayor Walters also told of the $500 reward put out by the Western Stoneware Company which would add to the $200 reward that the city already had issued.[56] This reward was for information leading to the arrest and conviction of the arsonist.
Mayor Walters also called a secret meeting in the firehouse to come up with a plan of action to "catch the criminals." Only Mayor Walters, Council Men, Fire Chief Dale Moore, Police Chief Romano as well as representatives of the state Fire Marshall's office and the State Police were supposed to know about the meeting. According to Mayor Walters, the goal here was, "to coordinate efforts in such as way as to speed the early solution of the arsonist, by avoiding duplication in these efforts, thereby resulting in full efficiency from all personnel." However, a member of the press, apparently informed of the meeting, sneaked in and heard much of the conversation.[57] The meeting was not successful, partly because it became public and hurt Mayor Walters's plan of action.
The first break in the arson case came when Theodore Allen of San Monica, California, telephoned the Review Atlas news room to report a suspicious man who confronted him when he was taking pictures around the Warren County YMCA in Monmouth.[58] Mr. Allen, a Monmouth native, stopped in the city on his way back from Germany to visit the city and take pictures of places that were familiar to him. When Mr. Allen was taking pictures of his late father's house near the Warren County YMCA, a man walked up to him and watched him take pictures. The unknown man then approached him and said it was a good thing that Mr. Allen was taking pictures because in four or five months Monmouth would be known all over the United States and "Life Magazine" photographers would be coming to take pictures.[59] The man promised that something was going to happen in Monmouth, but he didn't explain anything further than this. Mr. Allen ignored the incident until he read about the fires in the paper. He described the man as wearing gray trousers and a gray shirt, with a Ruby complexion and gray hair.[60] He thought the man to be 5'11'' tall and around 155 pounds, between 68 and 75 years of age. This description, however, was contrary to the local belief which was that the arsonist was between 20 and 30 years old. Mr. Allen returned to San Monica where the police department and a sketch artist of the department worked with Mr. Allen to complete a drawing of a composite picture of the man.[61] The picture was sent by wire photo to Monmouth, so the officials involved in the arson case could get a description of the criminal. It isn't known where this lead ended up, but the arsonist was never apprehended. Then town shortly went back to normal which pleased Mayor Walters because he said this would give the state police and the fire marshal's office a chance to work more quietly.[62]
Continued controversy around Walters
Later this year, a very strange set of events involving Mayor Walters occurred. A series of phone calls were made to his residence in which the caller would whisper and hang up the phone, scaring Mrs. Walters. Technology was increasing at a rapid rate during this period and a call trace became available. Mayor Walters thus had the calls traced and to his surprise they were coming from the residence of Ralph Eckley, a well known writer for the Monmouth Review. Mayor Walters confronted Ralph Eckley about this and Eckley completely denied the accusation.[63] These two men had an interesting history during Mayor Walters term and it was obvious that they didn't like each other. Mayor Walters had some feelings of anger towards Eckley, as well as many other people in Monmouth because of their stubbornness and seemingly unusual ways of getting projects done. He felt that Eckley was unfair to him and misinterpreted much of what he said to the public.
Allan Walters: A very progressive individual;
the expansion of a new party
During his term as mayor, Allan Walters tried to bring progress to the community and help make society better. One of the steps he made was the expansion of his Representative Party. Mayor Walters and other members of the Representative Party called a meeting to organize a Party which could become active in elections other than in the city of Monmouth. The Representative Party was created by Allan Walters before the 1961 election.[64] The party elected Mayor Walters as well as aldermen Robert Cudd and Donald Enslow. A draft of the laws of the Representative Party was written by the previously appointed committee of Eugene Bishop, Peter Curtin, and John Cox. The next goal was to incorporate the laws of the party under the laws of the state of Illinois.[65] The party set up the officers of president, vice president, secretary, treasurer, and a board of five members. Their other main purpose was to recruit new members into the party, seeking out qualified candidates to run for public office. The party also stated that they would endorse candidates of other parties if they did not have their own for a particular election.[66]
Many accomplishments as mayor
The Representative Party was very progressive and was always trying in someway to benefit and improve the community. Mayor Walters was intent on bringing new business and industry to Monmouth, as well as keeping the ones it already had. The Union Party in contrast seemed very traditional and happy with the way society was. They were hesitant to bring new labor into Monmouth as well as improve many factions of the city because they didn't want to have to support the additional wages and projects through their taxes. However, Mayor Walters didn't need to raise taxes to get these projects done.[67] There always seemed to be some sort of controversy around Mayor Walters and his progressive attitudes.
Despite the opposition, Allan Walters did get many important projects accomplished during his term as mayor. He made a good start on the blacktopping and sewer projects and even eventually defeated the state of Illinois in the courts to overturn the wages laws. According to Allan Walters, every road in town was paved during his last year as mayor.[68] He also helped to get Ager, a meat packing plant, up and running in Monmouth. This employed nearly 700 people and needed seven million gallons of water a day to run properly.[69] The Monmouth airport was being re-built and re-opened during Mayor Walters' term. He also got a federal grant from Washington D.C. to build a new hospital in Monmouth.[70] The new site was out on West Harlem Street with much more parking space and this new hospital eventually turned out to be a better facility. These improvements made by Mayor Walters definitely had an impact on the well-being of the city as was told as the city's population jumped from just over 10,000 people in 1960 to around 11,000 when Mayor Walters' term ended in 1965.[71]
Continued controversial issues
around Walters in Monmouth
Almost immediately before the 1965 election in which Allan Walters ran for his second term of mayor, this time as an independent party candidate, he wrote an article expressing his feelings toward the Monmouth Review Atlas.[72] He was upset with many ways in which the newspaper interpreted his ideas and felt that the press in general had been unfair to him during his term as mayor. The article reads the following:
"In wrap up of campaign '65, I would like to say something about the campaign as conducted in the local newspaper. I didn't advertise this election in the local newspaper which will be voted on tomorrow."
"The Union Party did rerun two of my ads which I had ran in the Primary and for this I want to thank them for. For everything I said in the Primary is still what I believe in this election."
"The reason I didn't advertise in the primary was very simple. The candidates were told that they had to have their ads in by noon the day before they would be run. This is a policy completely different than was established four years ago we could have our ads in by ten o'clock in the morning, for that day's paper. Now why was this policy changed? It is very simple that the reason they wanted this policy was so they could give my ads to Mr. Berstead to read so that he could have an advantage. Now the proof of this is if the people would look back to the Primary, they'll find that Mr. Berstead answered my Saturday night's ad in the Monday's paper. Now I didn't have this advantage of answering his Saturday night ad on the Monday before the day of the election, because my ad for Monday had to be into the paper by noon on Saturday. Now this policy is not fair and just. I think we need a free press, yes, but I think we also need a fair press."
"Another example is one of my supporters had taken a testimonial ad into the paper and asked when the dead line was for this ad to have been in the paper. They were told that it could be in by eight or nine o'clock and still get into that day's paper. But when they came back that day Mr. Moffit informed them that they couldn't put it in the paper that he had changed the policy."
"Now this is another example of where the newspaper, which I call the Union Party mouthpiece, has created an advantage for Mr. Berstead."
"Now there is something here involved more than winning election and that's principle. If I have to resort to using a newspaper which doesn't treat me fairly in order to win an election, then I don't think I want to win. The public should realize that no
country on earth has ever been destroyed by bad streets, but there have been many of them that have their downfall caused by an unbiased free press."
"So it is just as important to the mayor to have good free treatment of the press as it is to have good streets."
"If the public will look back in history they will find that Nauvoo, a town just a few miles from us, was at one time the largest city in Illinois, even larger than Chicago. Today it's a community of a few hundred or two or three thousand people. Why was this community that had a growth and the largest city in Illinois taken backwards to the position that it is now, there is one simple answer and that was the press in Nauvoo, they had a press down there that didn't write issues as they were and in turn destroyed the community?"
"For the last four years that I've been mayor, the Review Atlas has been misrepresenting the facts in their paper in regards to my position. I've been asked if this is true why I haven't sued the Review Atlas. I'd like the public to know that I considered this at one time and took a trip to Chicago to see one of the best lawyers in the country. I was informed by this man that the press could put anything that they wanted to, in regards to a candidate or an elected official and there wasn't a thing that the candidate or elected official could do about it, that the Supreme Court of the United States has already ruled that this was their right as free press."[73]
1965 Election: Biggest in Monmouth History
The day after this article was published in the Review Atlas, Allan Walters ran for his second term as major of Monmouth in the 1965 election. After losing the Representative Party primary on February 23rd, Allan Walters decided to run for his second term as an Independent Party candidate. He was basically forced to do this when the Representative Party split and he lost the Primary election to Virgil E. Shaub. His opponents in this election were Representative Party candidate, Virgil E. Shaub, and Union Party candidate, George Berstead. Berstead won by a 256 vote margin over Allan Walters with 1,913 votes to Walters' 1,662.[74] Berstead won the second and third wards. Virgil Shaub, who had defeated Walters in the Representative Party primary only got 698 votes, almost 1,000 less than Walters did. This was one of the most highly contested elections in Monmouth history as 4,238 votes were cast.[75]
1969 Election
Four years later, in 1969, Allan Walters won the Representative Party primary and once again ran against George Berstead for the mayor of Monmouth. Compared to the last two elections, this one wasn't talked about as much and was generally very quiet. There were only a few scattered ads in the newspaper about the candidates and the polls. Schools did try to get younger children to become aware of this election through mock elections.[76] The main headlines in the Review Atlas were still about the Cold War and Vietnam as well as the ongoing crisis at Kent State. Football Star Joe Namath was also arrested for drunk driving on this day.[77]
Allan Walters lost this race to George Berstead in a complete Union Party sweep of the election. George Berstead won this election by a substantial margin, 2,050 votes to 1,409.[78] This 641 vote margin was more than double the 256 margin Berstead had over Walters in 1965. This election did not have nearly as good of a voter turnout as the previous election, but the Union Party completely swept the election and even ran a couple candidates unopposed.[79] Donald Enslow and Virgil Shaub still represented the Representative Party as aldermen during the last term, but were no longer in office after this. This election was actually such a sweep for the Union Party that the votes were declared final at 9 p.m. rather than 1:30 a.m. when they are usually declared final.[80]
Allan Walters after Politics
Allan Walters still lived in Monmouth until 1974, years after his political career ended. He moved away shortly after he was charged with writing two bad checks in Monmouth. He was arrested on November 23rd, 1973 for allegedly writing bad checks to the Monmouth Material Company and M and B oil company for $223.81 and $279.00 respectively.[81] Both complaining witnesses, however, dropped the charges before the case went to court. Allan Walters said that some people in Monmouth wanted to get him in trouble and he was sick of dealing with it.
More Opportunities
Not long afterward Allan Walters and his family moved to Palatine, Illinois, a suburb of Chicago. He was very happy that he decided to make this move and stated that this area was much better for his children as it gave them many opportunities that they would not have had in Monmouth. His daughters were in 6th and 8th grade at this time and that they found good schooling and opportunities in Palatine.[82] They are both successful people today.
In Palatine, Allan Walters became a broker, a licensed insurance agent, a licensed financial advisor, and worked with accounting as well. After he turned eighty, in September of 2006, Allan Walters was semi-retired, but still kept himself very busy and active. At this time, he still worked as a broker and was busy with clients.[83]
He talks about technology and the trends in society that people have had to go through. Mr. Walters, like many other people, has learned to become familiar with new technology, most notably the computer. He also talks about the United States becoming more of a service nation and less of an industrial nation, as much industry has moved elsewhere. Many of Allan Walters' ideas about society and many of his accomplishments as mayor are very important. Clearly he remains the same man who had ideas and projects designed to make Monmouth a better community.
<![if !vml]>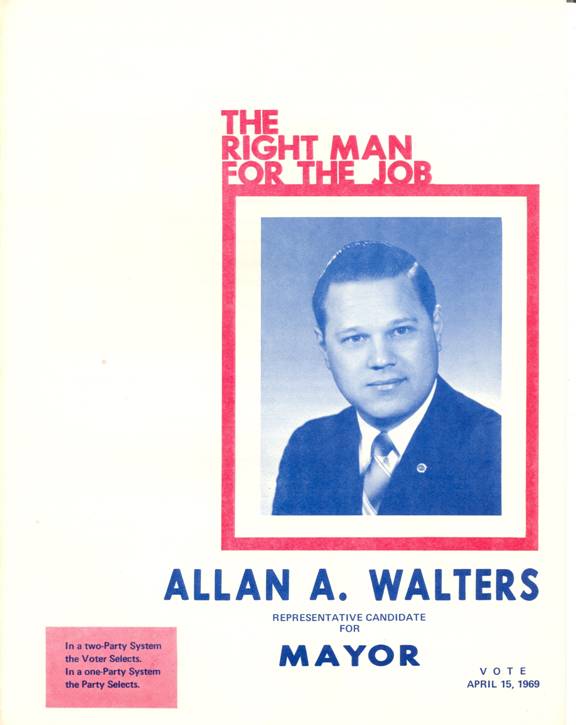 <![endif]><![if !vml]>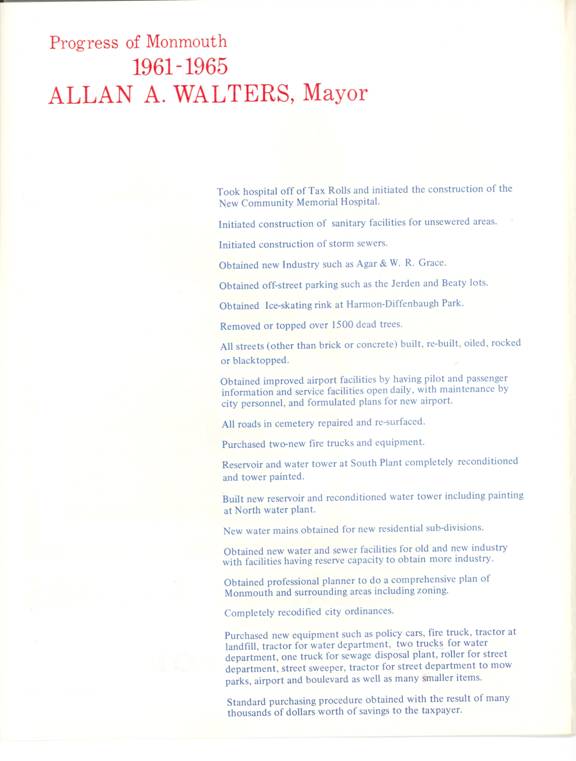 <![endif]><![if !vml]>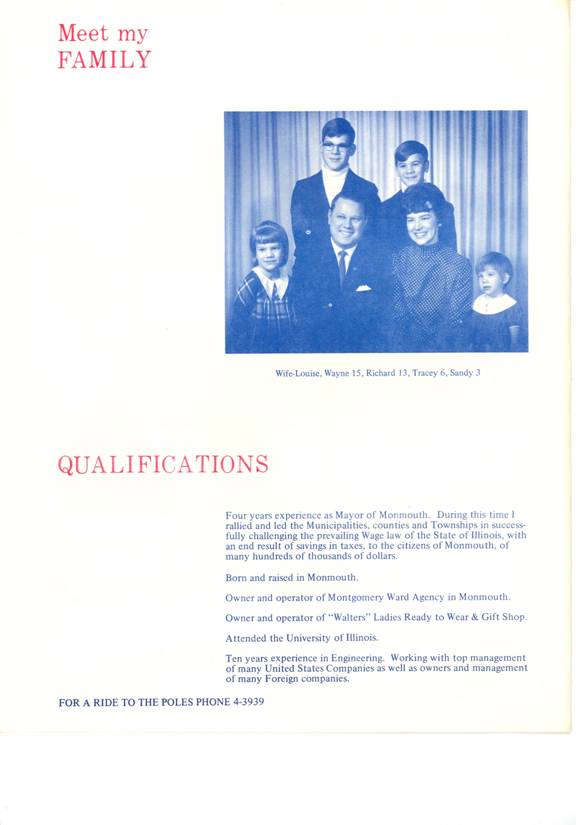 <![endif]><![if !vml]>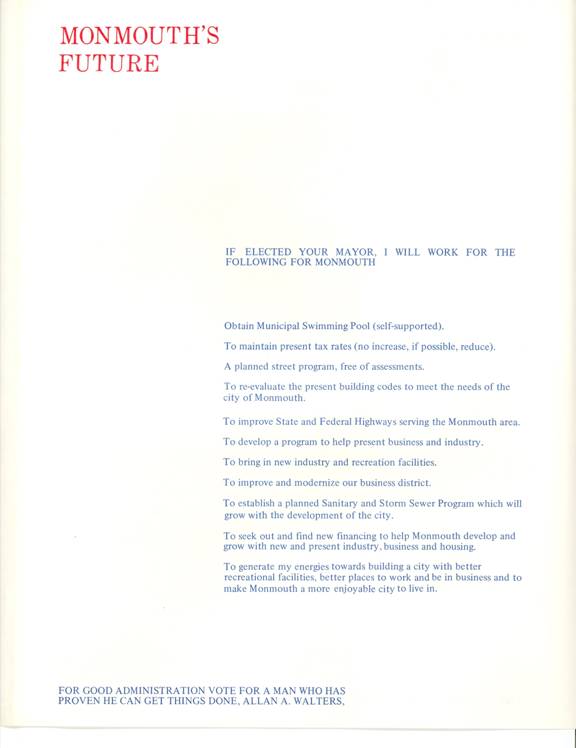 <![endif]>
This biography was written in the historiography seminar of William Urban at Monmouth College in the fall of 2006.
---