http://www.famousamericans.net/abnerclarkharding/
http://www.cyberdriveillinois.com/departments/archives/reghist.pdf for access to the history of the 83rd Illinois Volunteer Infantry and other Warren county units.
2003 MONMOUTH, Ill. — As one of the official observances of Monmouth College's sesquicentennial, a play by Professor William Urban will make its stage debut on April 4 and April 6 at 7:30 p.m. in the newly-renovated Dahl Chapel and Auditorium. Both performances are free and open to the public.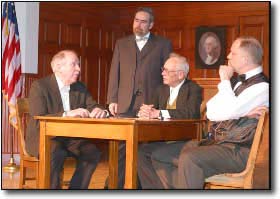 "Founders' Days," which chronicles the early trials and tribulations of the founding of Monmouth College, was written by Urban three years ago. The Lee L. Morgan Professor of History and International Studies at Monmouth, Urban is also the author of "A History of Monmouth College Through Its Fifth Quarter-Century," published in 1979.
The performance is being directed by Melissa Coulter, adjunct professor of theater at Black Hawk College in Moline, Ill. Serving as assistant director for the production is Kyle Anderson, a senior theater major at Monmouth.
According to Jeff Rankin, sesquicentennial co-chair, the three-act play, which centers around the period of the college's history from 1852 to about 1870, features a cast of 19 composed of MC faculty, staff and students and members of the community.
"This production is very much an ecumenical undertaking," he said.
Rankin added that the production, the first dramatic work to be held in the recently-dedicated Dahl Chapel and Auditorium, also includes a musical component consisting of traditional Monmouth College songs, period music and popular hymns. Providing musical accompaniment for the production is pianist Lenna Burnett.
Coulter, who is an English and theater graduate of Augustana College, said the goal of the production is to tell the history of the college in a way that is far more personal than can be achieved by viewing old documents and photographs.
"The founders actually come alive right in front of the audience," she said. "The play gives us some insight into the struggles that the founders of the college came up against … everything from raising finances to increasing enrollments and surviving the Civil War."
One of the more interesting aspects of the play, Coulter added, is its "focus on the role of women in the founding of the college. We learn from Mr. Urban that the wives and sisters and first female students played significant roles in the early years of the college."