DRAPER BABCOCK
Monmouth Mayor in 1873
By Erin DeFord, MC '07
A "man of affairs," Draper Babcock spent most of his life in Monmouth, Illinois. He moved there on October 1, 1842, at the age of fifteen with his mother and siblings to join his father, E.C. Babcock (1803-1885), and uncle, George Babcock (1812- 1903), who had arrived on May first of that same year.[1] Draper was born in Wales, Massachusetts, on December 1, 1827, and attended public schools there until he moved to Monmouth.[2]
When E.C. and his brother, George, came to Monmouth, they acquired a rented room belonging to Daniel McNeil where the City Hall now stands. This was the location of their dry goods business which flourished under the Babcock name.[3] The business was started by E.C. Babcock and his brother, George, who retired in 1851; his share in the business was transferred over to Draper and his brother, John. Draper eventually ran the business successfully until his retirement in 1892. The store boasted the "largest stock of dress goods, cloaks, shawls, silks, hosiery, gloves, embroidery, cassimere,…foreign and domestic goods, carpets, oil cloths, rugs, curtains, trunks, valises, traveling bags," according to a local newspaper ad. The dry goods store was affected and suffered great losses by the great Monmouth fire on May 9, 1871, but Draper was able to restore the business.[4]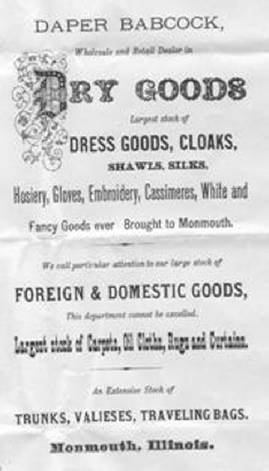 Draper Babcock married Mary E. Elliot on December 22, 1852. Mary was a devout Baptist as her father was a Baptist minister. She was born in New York on July 12, 1820, to Rev and Mrs. Joseph Elliot, and moved to Monmouth in 1850.[5] She was a teacher in the Sabbath school and a strong advocate of the Temperance Movement in Monmouth, belonging to a group called "The Crusade Society," which she was once president. Draper and Mary had four children: Edward C. (1854), Jennie (1859), Howard (1864), and Lucius A. (1869).[6]
In 1854, Draper purchased a house on the corner of East Broadway and North Third Street from Ira F.M. Butler. Butler used the money to finance his family's part in a wagon train that was headed west to Oregon, where he helped start the town Monmouth, Oregon. Shortly after the Civil War, Draper made updates to the house, adding a west addition. The Babcock's lived on the property until 1877 when it was sold to Lucius A. Green who later sold the house to the family of Henry Pattee, neighbors of Draper and then eventually of Lucius. Today, the Warfield apartments are standing on the land where Babcock's house once was.[7]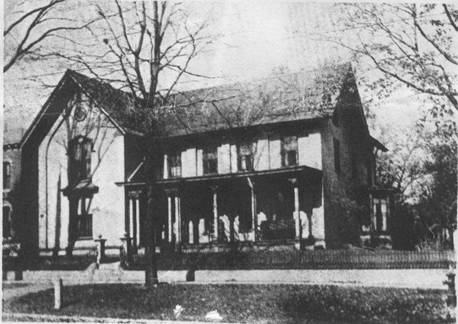 As a member of the community, Draper was always involved. From 1859 through 1865 he followed his Uncle George's footsteps in being the county treasurer. During the Civil War, he was the Deputy US Revenue Collector under Collector Grimshaw. He was a member of the Old Settlers Organization, a trustee of Monmouth College and for the public library from the time it was founded. He was also one of the founders of the First National Bank.[8] Draper also helped out with the economy and growth of the town,
He built the first elevator and warehouse in Monmouth in 1856, and was long an extensive dealer in grain and stock, storing grain, packing pork and acting as express and freight agent.[9]
All of these accomplishments and involvements lead up to his election as mayor of Monmouth in 1873.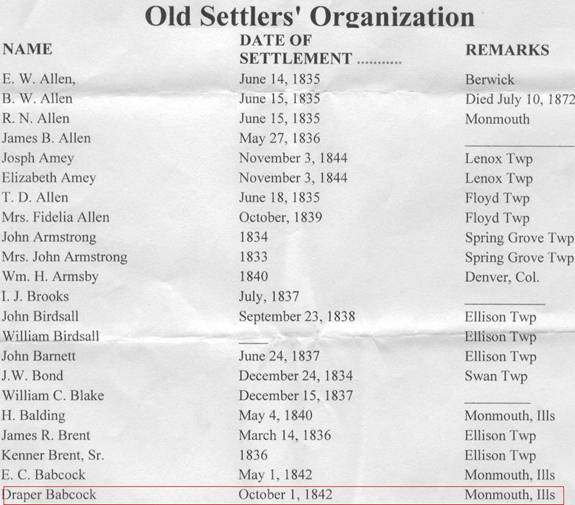 Mayoral elections took place annually as the term lasted one year. At the end of the 1872 fiscal year Draper Babcock ran against J.H. Holt for the position of mayor. Draper's political affiliation was with the Whig party until their disbandment then he became a Republican.[10] After the results of the April elections, Draper won in the East and West wards, losing in the South. This still gave him enough votes to become Mayor.[11] It was his and his wife's involvement in the Temperance Movement that helped him get elected that year as the movement was very popular at this time.
Draper took office on May fourth, 1873. During his time in office, Draper did many things to improve the city. For example, on May 9th, 1873 he passed an ordinance that authorized the construction of new sidewalks, placing trees in the park, and licensing billiard tables. On August 11, 1873 the council passed a law that prohibited the milling company from taking water from the public well, as it was causing the well to run dry. Draper also allocated funds to repair bridges and widen roads in the Monmouth Cemetery as well as allotting more land for plots. On October 6, 1873 he ordered for a stone barrel culvert to be built under East Street.[12]
In 1903 Draper's wife, Mary, became sick and after two weeks of illness, died. Her children all returned home to be with her. She was known as "one of the most honored women of Monmouth."[13] One year and a half after his wife passed away, Draper did as well on February 28, 1905. He had been suffering from diabetes and caught pneumonia and died. Draper's sons Edward and Howard are last noted in business together in Helena, Montana. While his other two children, Jennie and Lucius' last known residence was in Denver, Colorado.[14]
---