Reimer Lahann, 1895-1897
by Robert Crawford
Reimer Lahann lived a life many people could only dream about. His life was the American Dream. From his large and healthy and family, to his uncanny ability to deal with hardship, Reimer Lahann deserves to be remembered with distinction. If greatness is the ability to pursue a dream until you have achieved it, Reimer Lahann reached greatness.
Reimer Lahann was born in Delmat, Holstein, the northernmost independent state in Germany, on October 8th, 1842.[1] Reimer was one of twelve children.[2] Coming from such a large family, Reimer felt the need early to make himself recognized among his siblings. Thus he developed a strong work ethic from a young age. This character trait would grow stronger and stronger as Reimer matured. The Reimer bloodline did not originate in Germany, rather France.[3] Reimer's mother, Ida, died some five years after his birth in 1847.[4] This not only fractured the Lahann family, but it bonded Reimer with his father, Hans Lahann II.[5] This relationship between Hans and Reimer would prove to be stronger than for any of the other Lahann children. Reimer was sent to a common school in Germany.[6] This school was not prestigious, but Reimer learned the meaning of hard work, and determination. With the educational foundation and support from his father, Reimer pushed forward towards dreams of success in his future.
There was not enough opportunity in Germany for him to prosper fully. In 1861, at the age of nineteen, Reimer felt that America was the only place that he would have a true opportunity to succeed.[7] Reimer convinced his father Hans to accompany him to America. Since all of Han's children were grown now, he felt no responsibilities left in Germany; Hans was also growing too old to work, and Reimer told him that he would take care of him financially if he followed him to America. So just before Reimer's nineteenth birthday, he and his father left for a new life in America. They landed in New York Harbor on May 9th, 1861.[8] This moment marked a new beginning in Reimer Lahann's life. Since Reimer traveled to America during the German influx into America, he was preceded by tens of thousands of fellow German-Americans. These countrymen made his transition into America an easy one.
It was vital for Reimer to get a job as soon as he arrived in the United States. The first job that Reimer had was one at a farm near Troy, New York.[9] This job was perfect for Reimer because it did not require much talent. Farming also gave Reimer time to master the English language. As time went by Reimer found farming tedious. Having learned the language and grown tired of the low wages, he looked for another job. Without much trouble, Reimer found a job building cabinets.[10] This, like farming did not require prior experience, and the pay was much better. It also brought Reimer and Hans a little closer to New York City.
Being closer to New York City brought Reimer close to one of his passions—fine cigars. Smoking cigars with his friends and family was one of Reimer's favorite pastimes. The only problem with fine cigars was that it cost a lot of money to buy them. To get around this, Reimer learned how to roll his own. Reimer purchased fine tobacco and rolled his own.[11] This single act of following an interest would pay dividends in Reimer's future.
Once Reimer grew tired of building cabinets, he decided to join the National Guard.[12] By joining the National Guard rather than the Army, Reimer would be able to stay in New York with his family. He would also be paid an ample wage, while he continued his hobby of cigar rolling. Much of Reimer's National Guard time was spent in New York City, patrolling the streets and putting down the drafting riots that were taking place.[13] Reimer served in the National Guard for a total of three years. The military only furthered Reimer's hard work and disciplined attitude towards life.
While Reimer was in New York, he met the love of his life—a women by the name of Miss Kate Fougard. Kate was originally from Huhresse, Germany.[14] Kate was fiercely loyal to both Reimer and Hans. It is strange that two people who are from the same country would have to travel across the world to find each other, but Reimer and Kate were wed on Jan. 24th, 1865, in New York.[15] Kate would prove to be a strong foundation in Reimer's future endeavors. The couple would be together for the rest of their lives.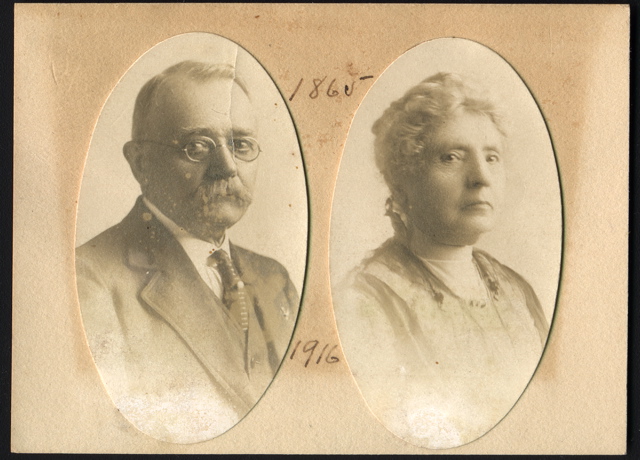 Photo generously provided by Jean Crawford
After years of rolling cigars for himself, Reimer opened his own cigar factory, to sell fine cigars at a reasonable price. The only problem was that New York City had too many fine cigar distributors already. Lacking sufficient capital, breaking into the cigar business in New York would be nearly impossible. So he decided that once his tour of duty in the National Guard was up, he would move west. Reimer and his family decided on western Illinois. The Lahann family traveled on the river system to get to Illinois. Traveling by river was the easiest form of transportation in the middle 19th century. Tragically, on the trip to Illinois, Hans Lahann died.[16] Reimer did not falter, but continued to push forward in hopes of opening a cigar factory. Even though Hans never made it to Illinois, his hard working personality lived on through Reimer and his family.
Reimer and his wife Kate arrived at Quincy, IL on May 1st, 1866.[17] After several months at Quincy, they decided to continue on to Monmouth, IL, on November 6th, 1866.[18] Once they arrived in Monmouth they figured out how different Illinois was from New York. Not only was everyday life more laid back, Illinois agriculture allowed tobacco to be grown. The flat plains allowed for great farming of tobacco. Cities south of Monmouth like Cuba and Havana grew tobacco.[19] Reimer also called on his previous expertise in farming to help him open a tobacco factory.
Once Reimer reached Monmouth, he knew that it was the perfect location for him and his family to start their business. Reimer did not waste any time setting up his new business. Since Reimer and his family did not have much capital, Reimer started the business with two employees—Kate and himself. Reimer rolled the cigars, while Kate did the office work.[20] Then, just when their cigar business was starting to produce profits, the building burnt down, everything was lost. This happened in 1868.[21] The fire was a devastating blow to the Lahann business. Nevertheless, he picked himself up and started from scratch. Reimer personally rebuilt his cigar factor at the same location. This undaunted attitude is the epitome of Reimer Lahann. He refused to give up his dream. This attitude is what makes great men great.
Once the cigar factor was rebuilt, Reimer was more determined than ever to make it a success. Reimer no longer felt that he alone could produce enough cigars to make the business a success, thus he decided to hire workers slowly. This was a risky move because it was not clear yet if the factory would be a success, and for the first few years the Lahann family scraped by financially, reinvesting all profits into the business. This risk paid off when the company grew more quickly than anyone would have imagined. Reimer's cigar factor was split into two sections; one for rolling cigars, and one for selling cigars. Rolling and selling cigars under one roof was very efficient. As time passed, Reimer employed between thirty five to forty employees with different responsibilities. Some of Reimer's employees rolled cigars, other were traveling salesmen; he even had employees working in the cigar factory itself, pushing his product. Reimer Lahann had produced a well organized cigar factory. In 1884 Reimer's cigar factory produced 1.5 million cigars a year.[22] This is a staggering number, considering that each cigar was hand rolled. These cigars also met the highest quality standards. Reimer always remembered his passion for a quality cigar. His La Suprema and the Phil Sheridan cigars were regarded as some of the finest cigars around Warren County.[23] Reimer Lahann had created one of the most lucrative businesses in all of Monmouth.[24] Reimer had gone from a poor German immigrant to a rich American entrepreneur. With his new found wealth, Reimer was able to achieve security for both himself and his family. Hard work and determination did pay off.
Reimer and Kate had several children. Their first child was a girl named Ida after Reimer's mother, born on November 14th, 1865.[25] Their second child was a boy named Andrew R., born on November 16th, 1867.[26] Their third child was named Nina May.[27] All of their children had different personalities with different life goals. Ida married a local farmer and settled down.[28] Andrew worked at his father's cigar factory his entire life. He married Minnie Rankin on June 1, 1892. Andrew died on July 27th, 1904 at the age of thirty seven.[29] Nina May wanted to be an educated girl. It was very important for Nina May to get her degree from school and be self supporting. Once Nina May had gotten her degree she married William Arnold of Galesburg. She lived the rest of her days as a house wife in Galesburg.[30] All of the Lahann children lived interesting lives. One has to attribute some of their successes to their family and upbringing.
Reimer Lahann was not only involved in Monmouth's business sector, he also worked in public offices. Reimer first served as an elected school director in Monmouth. His term did not last long due to errors in his naturalization papers. After finding this out, Reimer quickly resigned from this position.[31] Once these errors were corrected Reimer sets his sights on bigger and better things.
In 1895, Reimer Lahann decided to run for the office of mayor. Reimer took a big chance doing this because the spot on the Republican ticket had already been filled by a man by the name of Linn.[32] Since Monmouth was a Republican stronghold, Reimer knew that he had his work cut out for him. After months of campaigning and lots of hand shaking, Reimer defeated Linn in election for mayor of Monmouth, 894 to 729.[33] Not only did the independent Reimer win, seven out of eight other independents won positions in Monmouth town government.[34] This was a shock to many people. Regardless, Reimer was the new major of Monmouth.
One hot topic issue in Monmouth in 1895 was sidewalks. Up to that point all sidewalks had been made of wood, which had to be replaced all the time. This meant more money out of the town's already small budget—in 1895 the entire Monmouth town budget was only $49,429.43.[35] This money was for expenditures for police and fire departments, to sidewalk and street funds. In 1895, $5608.27 was allotted for sidewalks alone.[36] Because people were tired of paying taxes to re-wood their sidewalks, on July 1st, 1895, Reimer and his council passed a bill that only brick sidewalk construction would be allowed in Monmouth.[37] The construction of this sidewalk would not begin until August 19, 1895.[38] The town council also passed a bill stating that the cost of the sidewalks would be passed on to those whose property was touching the sidewalk.[39] This angered many of the residents, but saved the taxes of all the Monmouth residents from going up. The street of North Avenue was also paved. The cost of this paving was also passed onto those residents who were touching it.[40] The city of Monmouth had a way of passing the buck when it came to funding road and sidewalk construction.
Another tactic Monmouth used to raise revenue for the town was to fine people for different infractions. Almost 1/4th, some $11,000 of the town's total revenue was raised by licenses and fines.[41] On June 7, 1895, a law was passed stating a resident was allowed to water their lawn for a maximum of two hours a day. The watering must take place between the hours of 6:00-7:00 in the morning and night. Leaky hoses were also strictly forbidden. Any violators of this law would have their water turned off until they paid the fine of five dollars.[42] On June 17, 1895, Monmouth passed a law stating that no bicycles were permitted to exceed a speed of eight miles per hour. Bicycles were also prohibited from being ridden on the sidewalks and must have a bell attached in working order. Any violator of this law was forced to pay a fine between two and ten dollars.[43] These laws raised revenue to run the city of Monmouth.
Reimer was a member of several lodges in Warren County. Reimer was a member of the Warren Lodge N.160 I. O. O. F. from 1868-1875. This club held their meetings in Galesburg, Illinois. Reimer later left to be a founding member of a Monmouth lodge called the Warren Lodge N.577 I. O. O. F.[44] Often the lodges served as a social structure during that era. It was a place to meet people and make connections.
On January 1, 1896, Reimer turned over the cigar business to the Maple City Cigar Company, incorporated with a capital of $10,000, and he became the company's president.45] Reimer then moved his factory to 211 East Broadway. Reimer remained president of the company until 1899 when he decided that he wanted to retire with his wife Kate. He had made enough money to support his family, so Reimer felt no need to continue working.
The same year Reimer retired from his business, he was appointed the tobacco examiner for Chicago and several other cities.[46] This position proved that Reimer had truly mastered his craft. Reimer and his cigar factor had earned a positive reputation; thus he was trusted by Chicago to be their tobacco aficionado. Reimer remained in this position for several years.
The Lahann family members were all upstanding individuals in the community. There is not record of a Lahann being arrested in Monmouth. Every Sunday the entire family would attend the Methodist Episcopal Church.[47] All of the Lahann children went on to have families of their own.
Reimer Lahann and his wife Kate Lahann lived out the rest of their lives in Monmouth. Reimer died on June 26, 1927, at the age of eighty four. There was no known cause of death, or autopsy done.[48] Kate died on January 22, 1931. Reimer, Kate, and Andrew are all buried in the Monmouth City Cemetery.
On the 27th of June, one day after Reimer Lahann died, Monmouth College received a $200 check from him. The check was dated for June 26th, the same day of Reimer's death. He wished the college to receive a tuition grant that they desperately needed.[49] Reimer Lahann was a kind and giving man. He was also a caring husband and father. Reimer was the American dream.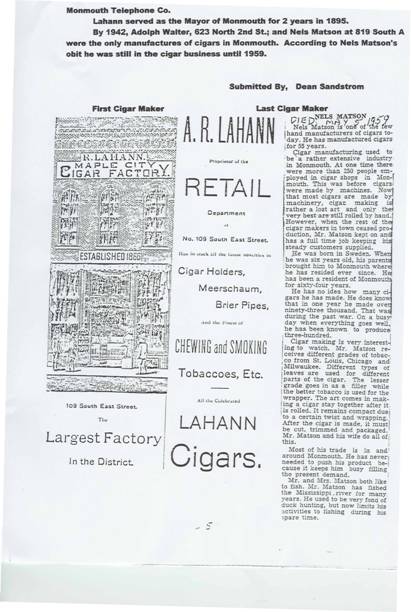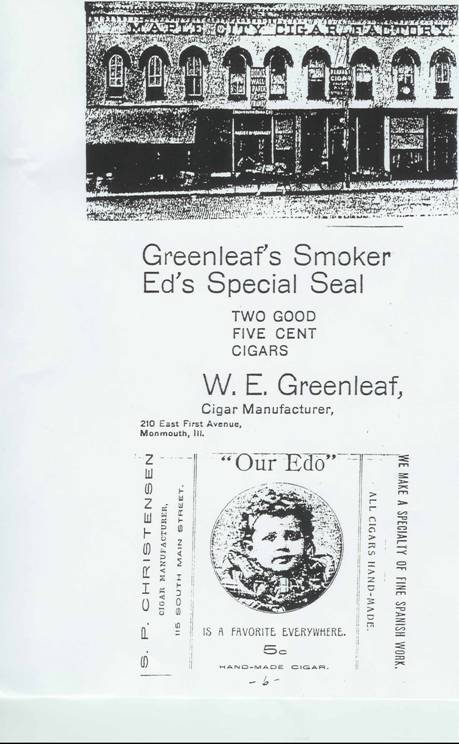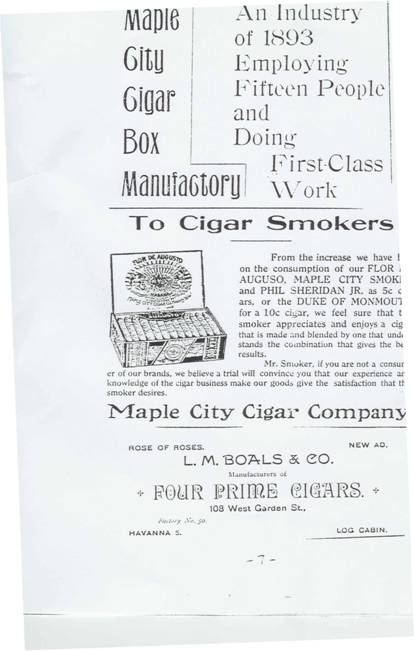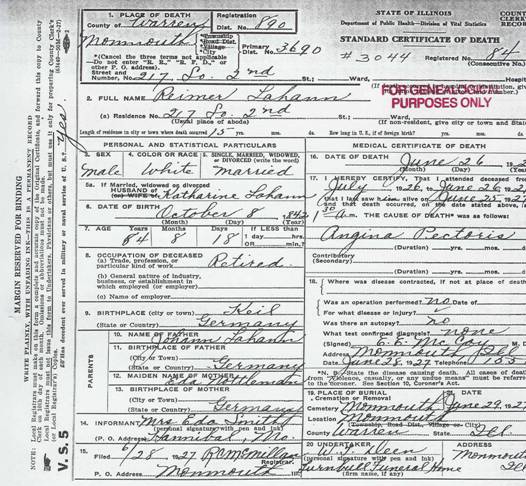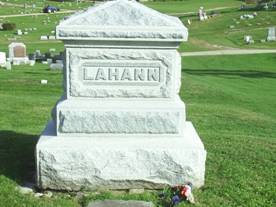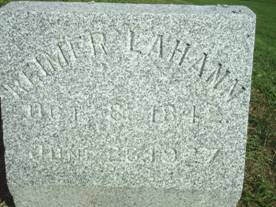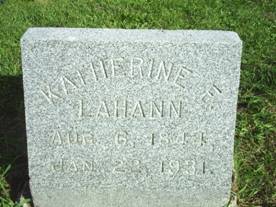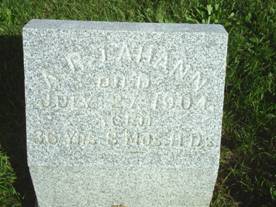 Robert Crawford wrote this biography in the fall of 2005 in his historiography class at Monmouth College under the direction of William Urban.
---