EUROPEAN CULTURAL STUDIES TOUR
SUMMER 1999
The second of Eastern Michigan University's Cultural Studies tours gathered in Salisbury, England, in late May. We then went to London, Paris, the Rhineland, Berlin, Prague, Vienna, Salzburg, Munich, Venice, Florence and Rome
Lecturing at Stonehenge.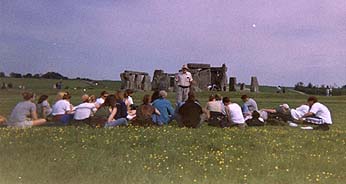 London was great--nice weather, no problems of any kind.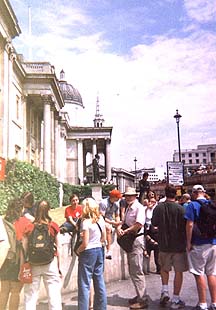 Right: At the National Gallery in London.
Paris was the opposite--a metro strike that spread to include the buses, and a museum strike! We nevertheless made the best of it (and it was a learning experience). We had a good day at Chartres, at the Invalides, the Pere LaChaise cemetery, Montmarte, and the Eifel Tower. London did prepare us well for the many art galleries we would visit: we saw the play ART, with its mordant comic commentary on modern art (centering on a white on white painting).
The Rhineland was a welcome respite from city life, and an opportunity to learn about German white wines.
Berlin was a gigantic construction zone, a great contrast to Prague, which had been finished to perfection a century ago. Prague was again, as always it seems, the students' favorite city.
Vienna was Vienna (Wien bleibt Wien) in the best sense of the phrase, and everyone enjoyed La Cage aux Foilles despite the German dialogue, because the students had all seen The Birdcage and the music was great
Munich's highpoint was up high--a day trip to Garmisch-Partenkirchen, with some hiking up various trails to see the Alps and look down on the town.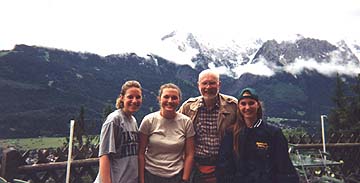 Up to this time the weather had been cool. Comfortable, but cool. Sunny Italy was a change of temperature as well as culture and cuisine (though we had eaten our share of Italian food already). It was warm but not yet hot, so we were able to walk, ride bikes, and travel with comfort.
Rome was a bit warm. But we cooled off in the fountains all around town. Three coins in a fountain was part of the experience, too.
Six weeks had passed almost before we knew it.