Home - Information Services - Get Help - How-to-Guides - Word 2016- Recover an Unsaved Word Document
Recover an Unsaved Word Document
If Word crashes while you're working on a file, and you have the Save Auto Recover information every x minutes and the Keep the last auto saved version if I close without saving setting turned on in Word (File - Options - Save), then, when you re-open Word, you should see a message in the upper-left corner that says, "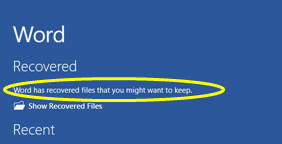 an Auto Recovery (.ads) file should appear in the Document Recovery pane when you close and re-open Word.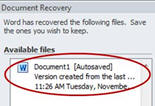 If the Document Recover pane does not appear when you re-open Word, then follow the steps below to try to locate and open the Auto Recovery file.
Go to F:\Windows\Application Data\Microsoft\Word.

Right-click the .ads file and select Copy.


Paste the .ads file in c:\users\[MC username]\App Data\Local\Microsoft\Office\Unsaved Files.

Note: If you don't see the App Data folder, then click Organize in the upper-left corner of the window and select Folder and search options. Then, on the View tab, click Show hidden files, folders, or drives and click OK.


Open Word.
On the File tab, click Recent.
At the bottom of Recent Places, click Recover Unsaved Documents.
Select the .ads file.
Click Open.
Save the .ads file as a Word (.docks) file to your computer.