Text

Chaucer, Geoffrey. The Riverside Complete Works of Chaucer. Ed. Larry D. Benson. New York: Riverside Press, 1998.

Some Initial Thoughts

Most of you come into this class with varying degrees of dread about it. Some of you worry that it's one of three times a week is too much for something this old. Just remember: caffeine is your friend (just as it will be mine, as well). Some of you worry that it's going to be about that sometimes-annoying person who popped up in A Knight's Tale. (No, Chaucer never had a gambling problem.) Most likely, though, you're going to be dreading this course, well, because it's CHAUCER and, you know, CHAUCER is a dead white guy who wrote funny. Dead language, dead references, dead to us.

Dead wrong.

In his original Middle English Chaucer may be alien but he's nowhere near dead. Sometimes he waxes philosophical, sure, or religious, or literary in ways you might find off-putting. However, once you get the basic vocabulary down -- "benedicte!" is always going to be "(the Lord) bless you!" as an interjection; "dynynytee" is always going to be "divinity" -- you're going to find that Chaucer is also clever, witty, a great poet and, sometimes, guffaw-inducingly funny. We'll work on ways to approach the Middle English language and history so that the fourteenth century seems a bit less removed than it does now. And what I hope you come to realize by the end of the semester is that Chaucer wrote some of the most vibrant language and art of his day.
The Course

No real surprises here: we're going to read Chaucer's works -- short, middle, and long -- culminating in his Canterbury Tales. If you flip through the Benson, you're going to find that Chaucer wrote a heckuva lot more than the one work he's most famous for and we're going to sample those pieces here. However, it is the Tales which mark something new and startling in literature, the real roots of the tradition we call "Modern English Literature" (we'll talk about that "modern" later).

However, the literature by itself isn't going to be sufficient to "get" Chaucer. There's simply too much time and distance between circa 1400 England and 2004 Illinois. What I'm going to ask of you, then, is that you help fill us in on all the gaps that need filling: this, of course, means oral presentations.

There will also be two essays due in here, as well as two tests to think about.
Essays: You're all in, or coming into, the moment of your academic careers when you need to show what you're made of: original readings and some research are the stuff that English majors are made of. Thus, your two essays in here will reflect those demands.

| | |
| --- | --- |
| | Essay One will address either one of the non-Canterbury Tales pieces or one of the Pilgrims. If the former, then I expect you to do more than a close reading: you must generate an argument that deals with the author's themes and his viewpoint on them (probably informed by the history of his moment, whether political or literary). If the latter, I expect you to present an argument about that figure utilizing the full range of appearances which he/she makes in the Tales. This means accounting not only for the prologue and tale but also any other appearances (and speeches) elsewhere in the book. Length is somewhere in the five-page range. |
| | Essay Two will address one of the themes we will present in class. Ideally, this will grow out of the presentation you give, which itself will grow out of the research you've done. However, as with the first essay, you must have an argument to your essay; it cannot simply be a collection of facts, details, etc. Topics are open-ended. Length isn't: eight max on this one. |

| | |
| --- | --- |
| | Tests: There will also be a mid-term and a final in here, where you will be responsible for every bit of information covered during the semester. Anything is fair game. Be aware that, since this is partially a language class, there will be a translation section on each test. The point is not to scare you or make you think I'm evil (I'll give you better reasons for that as the semester wears on, I'm sure). Instead, I want to make sure that you fire your literature/history/language brains on all cylinders. Tests are ways to gauge how well that is happening. |

Oral Presentations: Fifteen weeks, about ten of us, that's a pretty good one-a-week average, I'm thinking, once you figure in breaks and such. (Course math was never my strong suit.) What this means is that, starting almost right away, you're each going to be making presentations centering around one tale (or group of tales) and one theme. Sign up will happen relatively soon here. But what to do, do you ask? Here are the parameters on which you'll be evaluated:

| | |
| --- | --- |
| | Length: 15-20 minutes (longer, if the time is usefully spent, will not be held against you) |
| | Main Point: Have an idea of your own which you support with research |
| | Class Involvement: Clear and useful handouts are good, and so are whistles and bells. (Any and all material presented during your time will be fair game for the exams, so the better and more detailed the material you leave with us, the happier your classmates will be with you.) |
| | Evidence of Scholarly Investigation: I'm going to be paying attention to how much you've read, how deeply and how well you're able to employ your new knowledge. (Did you give us a bibliography or a "places to learn more" list?" Have you suggested further readings? Did you refer to scholars in your presentation?) Have you demonstrated some mastery of the material you're working on? |
| | Discussion Leading: You'll be responsible for turning in to me a series of discussion questions at the start of the first class of the week in order to get or keep us rolling. You only need one copy for you and one for me; I'll expect you to have one and work from it as you help focus and push our discussions. |
| | Grading the Presentation: I'll be using a checkbox rubric for evaluation (I'll distribute a sample copy); please note that this presentation counts as much as your second essay (see below), so you want to take it seriously. |
The Reading Aloud Thing
You will be reading Chaucer aloud. Get used to the idea. You'll also be translating him aloud. Get used to the idea. Again, The Tales were oral stories first (and many of the poems were oral, as well) and I want you to get some sense of his ear as a poet and his craft as a writer -- and the best way to do that is to read him aloud. It also doesn't hurt your knowledge of the language (either Middle or Modern English), either.
Grades

Not much to say here. Be in class and talk in class, because I'm going to base part of your evaluation on your participation. Right now that means that I'm giving you four skips during the course of the semester to be yours and yours alone; I don't care why you're not there. More than that, however, and it will count against your grade. I'm a great talker, but I do it best and most comfortably when there's a real conversation going on. So, you're going to be evaluated on how well you hold up your end of the conversation.

Percentages:

Essay One 15
Mid-Term Exam 15
Essay Two 20
Oral Presentation 20
Final Exam 20
Participation 10
Course Objectives
To learn to read in Middle English -- not because it's "important," but because it allows you to capture the shades of meaning which Chaucer himself intended, and to translate those meanings into language which makes sense to you;
To become familiar with the breadth of Chaucer's work;
To understand why The Canterbury Tales marks something new, significant, and originary in English Literature;
To come to a greater understanding of medieval history and culture; and,
To hone your research tools, and critical writing and speaking skills.
The Mellinger Learning Center

The Mellinger Writing Center is available for all students: strong as well as inexperienced writers can benefit from suggestions and help from others. Even professional writers get feedback from colleagues, friends, and editors. Our writing fellows provide confidential help with any stage of the writing process: generating ideas; organizing paragraphs; writing introductions, conclusions, or transitions; or developing an analysis or topic.

Plagiarism

Finally, a word about cheating. DON'T. This is really simple: if you copy someone else's direct words or exact ideas -- intentionally or not -- without giving them credit you fail the class. Universities and colleges are built upon the notion that ideas matter; if you plagiarize someone else's ideas, you're denying that fundamental tenet. Thus there will be zero tolerance for plagiarism in here. If you do it, you will fail the course, period. (Please see also p. 24 "Academic Dishonesty" in the college's 2004-05 catalog and Section 54 of Hacker's Bedford Handbook.)

Precision in Writing

Writing is central to the English major; therefore, the Department of English has implemented a policy to encourage excellence in writing:

The faculty in the Department of English will return papers written by English majors, if they


| | |
| --- | --- |
| | do not follow correct MLA documentation (including failure to integrate quotations correctly, misplaced punctuation, incorrect work cited entries, etc.) |
| | include more than one major grammatical error (run-on sentences [including fused sentences and comma splices], subject-verb agreement errors, and fragments); |
| | contain excessive minor errors (i.e., misuses of commas, semicolons, misspellings, etc. which display a failure to proofread). |

Instructors will return papers, final papers will be reduced by one letter, and students will have forty-eight hours to revise and re-submit papers. In many cases, instructors will not have read the entire paper once they have determined that an essay fails to meet the minimum requirements; consequently, students will need to review and revise essays from beginning to end to make corrections. If essays fail to meet these minimum standards after re-submission, students will earn Fs for those assignments.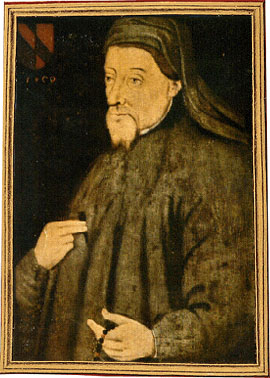 Calendar<![if !supportEmptyParas]> <![endif]>
| | | |
| --- | --- | --- |
| Date | Class/Reading Abbreviations found on Benson 779 | Presentation/Writing |
| 8/29 | Syllabus -- Whoo Hoo! | Chaucer's Life |
| 8/31 | Benson's sections on "Pronunciation" xxx-xxxiv & "Versification" xlii -- xlv | Chaucer's Language: A Crash-Course in Middle English |
| 9/3 | "Complaint of Chaucer to His Purse" | |
| 9/5 | "Lak of Stedfastnesse" | Politics |
| 9/7 | "The Former Age" & "Fortune" | |
| 9/10 | PF | |
| 9/12 | PF | Medieval Love |
| 9/14 | PF | |
| 9/17 | The Canterbury Tales: GP | |
| 9/19 | GP | Frame Narrative |
| 9/21 | GP | |
| 9/24 | GP | |
| 9/26 | GP (esp. Friar, Franklin, Cook) | Social Hierarchy |
| 9/28 | GP (esp. Wif, Parson, Plowman, Miller, Reve) | Come |
| 10/1 | GP (esp. Summoner, Pardoner, Host, and end of GP) | see |
| 10/3 | loose ends of GP; start of KnT | me |
| 10/5 | KnT | about |
| 10/8 | KnT | rough drafts |
10/10

KnT

Essay One Due
Fabliaux

10/12

KnT

10/15

Fall Break

10/17

KnT

10/19
MilT

10/22

Mid-Term Exam

Better Check the STUDY GUIDE

10/24

MilT/RvT

10/26

RvT/CkT

10/29

MLT

10/31

WBP

11/2

Class Cancelled

11/5

WBP

11/7

WBP/WBT

Marriage & "The Marriage Group"

11/9

WBT

11/12

ClT

11/14

ClT

11/16

MerT

Religion

11/19

MerT

11/21 & 11/23

Thanksgiving Break

11/26

FranT

11/28

FranT

11/30
Thop + Monk's Prologue
Essay Two Due

12/3

FrT

12/5

SumT

Chaucer's Literary Antecedents

12/7

PrT

12/10

NPT

12/12

Retraction

12/17

Final Exam 1:00 p.m.
MilT