Spring Break 1998
A VISIT TO BAVARIA 1998
Program
Four students, two relatives, and one alum of Monmouth College joined Professor Urban for the spring break trip. Click here for
the Munich City Guide
.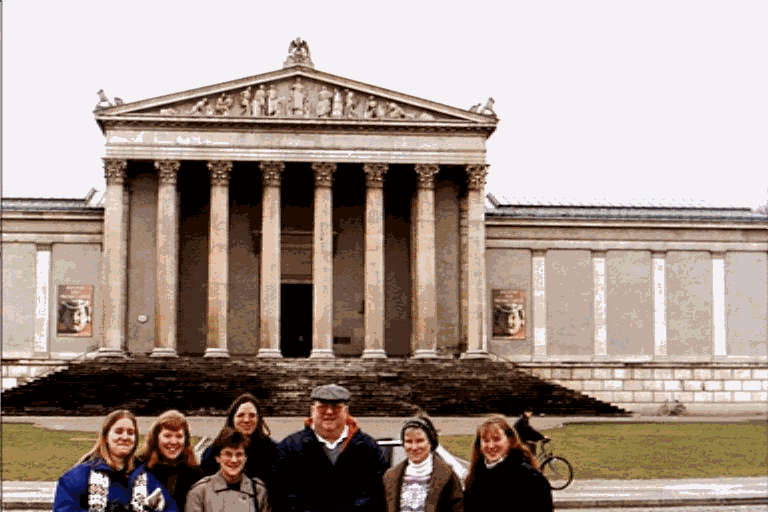 Daily Schedule

This was a March trip, and there was a bit more drizzle than we wanted. But we were never drenched. And we had a blast.

Day 1 - Friday March 13

Meet at Chicago's O'Hare Airport for 5:20 PM departure to Munich on Lufthansa.

Day 2

- Saturday, March 14 Arrive in Munich, motorcoach provided to hotel Orly. Walked, walked, walked, visited museums, ate a good supper! Returned to hotel for a good night's sleep.

Day 3 - Sunday, March 15

Museum Day! Ancient and modern art. Dinner at Hofbrauhaus.

Day 4 - Monday, March 16

Van to Salzburg.

Day 5 - Tuesday March 17

Van for visit to Landshut.

Day 6 - Wednesday, March 18 Van to Ulm. Climb most of the way up the Minster (tallest church stepple in the world).

http://www.germany-tourism.de/cities_e.html

Day 7 - Thursday, March 19

Van to Neuschwanstein Castle. SNOW.

Day 8 - Friday, March 20 Van to

Dachau and Augsburg.

Day 9 - Saturday, March 21

Free day. Nymphenburg Palace and shopping.

Day 10 - Sunday, March 22

9 AM departure for airport. 11:20 AM flight to Chicago, arriving Sunday 2:20 PM

Day 18

- Paper Due from those who expect academic credit for attending the preparatory lectures and the activities during the trip.