"

T

here are only two ways to live your life. One is as if nothing is a miracle. The other is as if everything is a miracle." -- Albert Einstein

What can I do with a B.A. in Biology?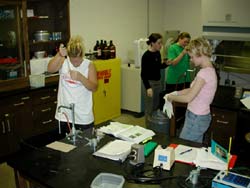 Broadly trained biologists are qualified for a variety of careers in industry, business, government, and NGOs (non-governmental organizations, e.g. World Wildlife Fund).
Many of these positions will emphasize lab skills, especially bench chemistry and microbiology. Recent graduates have found positions with a variety of organizations such as Archer Daniels Midland Co., the Illinois EPA, and the Nature Conservancy.
Other graduates are working in water quality control, food safety testing, and pharmaceutical sales. Many graduates also pursue a secondary education teaching certificate while at Monmouth and teach biology in high school. A career in the health sciences usually requires study beyond the B.A. (see below).
What if I'm interested in upper-level research or management?
More management-level or research-oriented positions may require graduate study in a specific area of expertise. Opportunities for advancement are also greater with an advanced degree. Topics of study for some recent graduates include toxicology, microbiology, molecular genetics, and fisheries ecology.
What about medicine and health careers?
M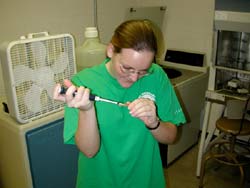 any biology students are interested in pursuing a career in health care. Monmouth College has a cooperative agreement with Rush University for students interested in nursing. After 4 years of study earning a B.A. in Biology at Monmouth and completing appropriate coursework, qualified students are guaranteed entrance into Rush's 2-year Masters program in nursing.
Students with an interest in occupational therapy, physical therapy, or physician's assistant should plan on four years of study at Monmouth culminating in a B.A., and plan to attend specialized graduate programs for these careers.
Students with an interest in pursing medical, dental, podiatric, or other licensed medical positions are encouraged to explore in their first semester the possible schools they would like to attend. The student's advisor with help from the pre-medical advisor can determine appropriate courses to be taken in addition to the biology major to ensure success in gaining entrance to these competitive programs.
Check out these graduates of the MC biology department:
2000's Graduates