Marlo Belschner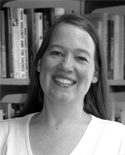 Associate Professor
Contact Information
Mellinger Learning Center, 204
309-457-2377
mmb@monm.edu
Office Hours
TBA

And by appointment
Website
Education
(2002), Assistant Professor of English, 2002- B.A., St. Cloud State University, 1991; M.A., 1994; Ph.D., Southern Illinois University, 2001.
Courses Taught
English 110: Composition and Argument
English 220: British Survey I
English 361/ 362: Shakespeare
English 350: Milton
Early Modern Women
Early Modern Masculinities
Literary Representations of Hell
English 400: Senior Seminar: The Works of Toni Morrison
WOST 201: Introduction to Women's Studies
INTR 101: Introduction to the Liberal Arts
Teaching Interests
I am interested in teaching anything related to early modern literature or culture but as my courses indicate, I really enjoy discussing early modern gender and sexuality. Strangely juxtaposed is my passion for the early canonical writers: Shakespeare, Milton, and Chaucer. I also greatly enjoy teaching Women's Studies and I especially like to explore portrayals of gender in media and popular culture.
Research Interests
I am currently working on an essay on Mary Wroth's use of Song of Songs in her pastoral closet drama, Love's Victorie. Other interests include the use of the 51st psalm in executions, anything related to hanging and the legal system, Mary Ward, and masculinity and gender in the early modern period generally.