"Almost anything you do will seem insignificant. But it is very important that you do it." -- Mahatma Gandhi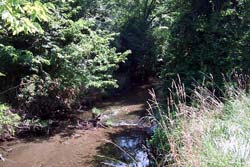 An active environmental club, Students for Environmental Awareness (SEA), is the focal point of co-curricular involvement for majors and other students from across the campus. Students support and implement recycling efforts on campus, sponsor environmental speakers, and plan an Earth Day event in conjunction with the College's traditional Founder's Day in April.
SEA members often participate in field trips in courses such as Field Botany and Field Zoology at Monmouth College. Professors make frequent use of our four field sites: the LeSuer Nature Preserve, Spring Grove Prairie, Hamilton Pond, and the Ecological Field Station on the Mississippi River. In upper-level field courses, students take occasional weekend trips to such places as Indiana Dunes National Lakeshore, Geode State Park (IA), Trail of Tears State Park (IL), and Horicon National Wildlife Refuge (WI).