"They're makin' more people every day, but they aint makin' any more dirt." -- Will Rogers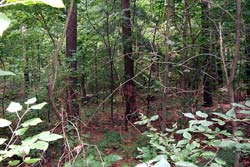 Because the Environmental Science program is interdisciplinary, it makes use of classrooms, labs, and other facilities throughout the campus. However, the Haldeman-Thiessen Science Center is the principal home for our majors.
The sciences at Monmouth have a long tradition of intensive hands-on laboratory work, and the college is quite well equipped to support the natural science component of the major. The Chemistry department supports the program with Biology has field equipment including water testing, live animal traps, an aquatic lab, a small animal lab, etc. A distinctive feature of Monmouth's program is our impressive array of field sites for outdoor environmental research and study.
The college maintains an Ecological Field Station on the banks of the Mississippi River, about 30 minutes from campus. Two boats, both with 20-hp motors, are stored at the station for use in aquatic work on the Mississippi or on local lakes. The location of the station gives us easy access to the river and to a variety of terrestrial environments (e.g., deciduous forest, conifer plantations, agricultural).
Newly acquired property within a 15- minute walk of campus dedicated as the LeSuer Nature Preserve is also used for field studies, course projects, and senior research. Several acres are being restored to native prairie and a large stream bisects the area. Riparian and flood plain forest also offer abundant opportunities for research in the expanding field of ecological restoration.
The college also maintains Hamilton Pond, a small, freshwater environment and Spring Grove Prairie, a native prairie plot, that are available for field courses and research. Additional information on these areas can be found here at the Biology department web site.