"Saving the planet is not a spectator sport." -- Lester Brown, WorldWatch Institute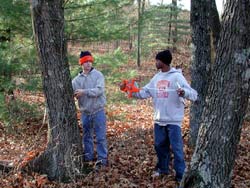 If you are reading this web page, you probably don't want to be a mere spectator. You want to pursue a field of study and eventual career that will allow you to make an impact in solving environmental problems.
Environmental issues are complex and challenging and resist simple answers. To pursue solutions requires dedication, commitment, and knowledge. Monmouth's Environmental Science program is designed to help you solve environmental problems by offering a rigorous interdisciplinary course of study and experience.


The latest news on present and former Environmental Science students.